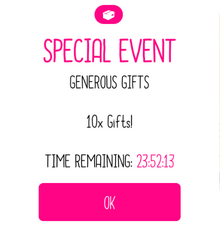 Special Events are events that occur in Egg, Inc. that grant bonuses and increases in gains. They typically last for around 28 hours and multiple events can happen at once. They are signified by pink icons on the left of the screen.
Special Events with multipliers give a percentage (most commonly 50%) off of specific features such as habitats and research but also offer other bonuses like more prestige eggs or faster piggy bank. Usually, a prestige event will happen on a weekend.
Here are the various types of event that may occur:
Community content is available under
CC-BY-SA
unless otherwise noted.