This article needs an update to fix information. You can help Egg, Inc Wiki by editing it.
Reason given: As can be seen from the picture, values are incorrect.
For the Google Play feature, click here.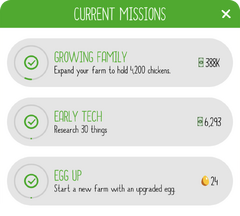 Missions are in-game quests that will reward you with Bocks, Soul Eggs, or Golden Eggs when you meet the requirements of your current mission. Missions do not restart upon upgrade or prestige.
Trophies replace missions when all are completed.
Missions can not be completed in a contract farm.
Missions List

| Title | Description | Reward |
| --- | --- | --- |
| Two Hundred | Hatch 200 chickens. | 457 |
| Early Tech | Research 30 things. | 5,022 |
| Get Going | Earn $500 in one second. | 22,182 |
| Growing Family | Expand your farm to hold 4,200 chickens. | 54,694 |
| Egg Up | Start a new farm with an upgraded egg. | 12 |
| Drone Practice | Take down 5 drones. | 6 |
| More Chicks | Grow your farm by 5,000 chickens. | 18,471,036 |
| Chaos | Hatch enough chickens to have 150 on the screen at one time. | 6 |
| Boosted | Use a boost! | 6 |
| Science! | Research 150 things | 6 |
| Big Farm | Expand your farm to hold 15,000 chickens | 6 |
| Supply Chain | Have a shipping capacity of 250,000 eggs/min. | 6 |
| Chick Grind | Grow your farm by 7,500 chickens. | 12 |
| Rack It In | Earn $1 Billion in one second. | 12 |
| Research Expert | Complete all Tier 1 common research. | 12 |
| Bigger Farm | Expand your farm to hold 50,000 chickens. | 12 |
| Bandwidth | Shipping fleet average capacity is 100,000 eggs/min. | 6 |
| Pricey Eggs | Lay eggs worth $300,000 | 2 |
| Epic Science! | Research 5 EPIC things. | 12 |
| More Chaos | Hatch enough chickens to have 175 on the screen at one time. | 12 |
| 75K Chickens | 75,000 chickens live on your farm. | 6 |
| Cash Flow | Lifetime earnings exceed $10 Quadrillion. | 4 |
| Drone Hunter | Take down 30 drones. | 12 |
| One Sec | Earn $10 Trillion in one second | 12 |
| Research Pro | Complete all 2 common research | 12 |
| Supply Chain (2) | Have a shipping capacity of 50,000,000 eggs/min | 12 |
| Big Farm (2) | 100,000 chickens live on your farm. | 6 |
| High Tech | Complete 10 Tier 5 common research. | 6 |
| Giant Farm | Expand your farm to hold 250,000 chickens. | 12 |
| Tons of Chicks | Grow your farm by 10,000 chickens. | 24 |
| Save Dat Money | $2 QUINTILLION in the bank. | 24 |
| Big Houses | Average habitat holds 300K chickens. | 24 |
| So Much Chaos | Hatch enough chickens to have 220 on the screen at one time. | 4 |
| Baller Eggs | Lay eggs worth $500 Million. | 12 |
| Cash Waterfall | Lifetime earnings exceed $25 Sextillion. | 96 |
| Tons O' Science! | Research 500 things. | 48 |
| Drone Slayer | Take down 100 drones. | 24 |
| Get Rich Quick | Earn $5 Quintillion in one second. | 6 |
| Chicks Everywhere | Grow your farm by 50,000 chickens. | 12 |
| Research Champ | Complete all Tier 5 common research. | 12 |
| Supply Chain (3) | Have a shipping capacity of 500,000,000 eggs/min. | 6 |
| Chicken City | 1 Million chickens live on your farm. | 24 |
| YUUGE Farm | Expand your farm to hold 2 Million chickens. | 6 |
| Cash Avalanche | Lifetime earnings exceed 500 Sextillion | 6 |
| Eleven Figure Eggs | Lay eggs worth $10 Billion. | 12 |
| Money Vault | $1 Septillion in the bank. | 12 |
| Mega Fleet | Shipping fleet average capacity is 60,000,000 eggs/min. | 12 |
| Chicken Metropolis | 5 Million chickens live on your farm. | 48 |
| Science Overload | Research 650 things. | 36 |
| Drone Slayer | Take down 100 drones. | 144 |
| Tachyon Collector | Lay 1 Trillion Tachyon Eggs. | 24 |
| Epic Farm | Expand your farm to hold 50 Million chickens. | 48 |
| Chicken Country | 50 Million chickens live on your farm. | 144 |
| Science Overload (2) | Research 800 things. | 144 |
| Soul Search | Collect 5000 Soul Eggs. | 144 |
| Chicken Planet | 150 Million chickens live on your farm. | 1,200 |
| Graviton Grandmaster | Lay 25 Trillion Graviton eggs. | 480 |
| Mad Scientist | Research 1,100 things on one farm. | 576 |
| Chicken Galaxy | 300 Million chickens live on your farm. | 1,200 |
| Soul King | Collect 50,000 Soul Eggs. | 2,400 |
| Dilithium Dealer | Lay 250T Dilithium eggs. | 4,800 |