What is Egg, Inc.?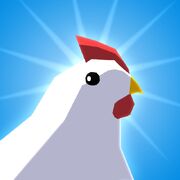 Egg, Inc. is an incremental idler for iOS and Android developed by Auxbrain, Inc. in July 2016. Purchase housing for chickens who will hatch various types of eggs which you can ship away in vehicles and sell for bocks. Store profits in grain silos and use research to further enhance your farm. When farming gets too slow, upgrade your egg or prestige to gain bocks even faster on your future farms.

Download on the App Store
Get it on Google Play
Game Mechanics
Egg, Inc. has many mechanics and features that make the game intriguing, including:
Contracts
Since the addition of contract farms and the multiplayer aspect of them, many comments on the wiki have been for recruitment. Please use the following page to recruit other wiki readers to your alliance or co-op.
Unofficial Discord
Below is a link to the unofficial discord of Egg Inc, if you join it please read and follow all the rules.
Wiki Leadership
Need to get in touch with someone actively working on the wiki?
Please contact someone from the list below:
Additional information on current and past leadership can be found here.
Links to Visit
There are several other places online where you can discuss or view info about Egg Inc.
Check out or contribute to our list here.
Community content is available under
CC-BY-SA
unless otherwise noted.