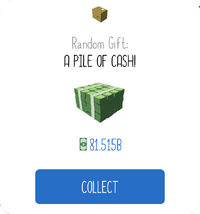 Boxes (also known as Random Gifts) are items that appear on your farm (with a notification on the right side) and award you with some number of bocks or golden eggs when opened. You can accumulate up to two boxes at once.
There are three types of deliveries of bocks, a stack of cash (equivalent to 1% of your farm value), a pile of cash (equivalent to 5% of your farm value), and a ton of cash (?).
The boxes can contain Golden Eggs in terms of dozens. This can be 6 (a half dozen), 12 (one dozen), 24 (2 dozen), 48 (4 dozen), 96 (8 dozen), 192 (16 dozen) or 396 (32 dozen(it is NOT 32Dozen. It is 32 Dozens.)). Note that these get exponentially rarer as they increase in value.
Trivia
Boxes are dropped onto the path by Transit Vans, regardless of whether or not any of your current vehicles are Transit Vans.
Community content is available under
CC-BY-SA
unless otherwise noted.